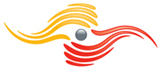 Visual Collaborative™ is a traveling exhibition that orchestrates charitable events which feature emerging and creative professionals including visual artists. The primary goal of the events is to educate, entertain and enlighten the society about the professionals and the featured works. Focusing on bringing awareness to various causes such as diabetes and hunger.

We produce digital expositions, art events, technology and promote sustainable design.

Our group which headquarters in Minneapolis and operates out of New York City, to date, has showcased the works of emerging artists in the cities of Minneapolis, Miami, San Francisco and Washington D.C.
Email info@visualcollaborative.com
Phone +1 (347) 560 0092